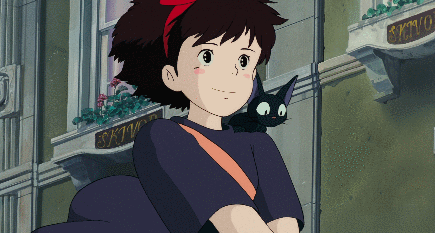 PERSONAJE/CHARACTER: KIKI
SERIE: KIKI´S DELIVERY SERVICE
TIEMPO DE ELABORACION/TIME OF ELABORATION: 4 DIAS/DAYS
LANZAMIENTO/LAUCHING: 31-10-2008
MODALIDAD/MODALITY: SOLO/ALONE
EVENTO/EVENT: HALLOWEEN
Sin dudas, las peliculas del Studio Gibli son super tiernas y llenas de hermosos mensajes y valores humanos.Por eso elegí a Kiki como primer cosplay de sus sagas. Ella muestra muchas facetas de mi personalidad por lo que me resultó facil identificarme con ella; otro de los motivos fue el impetú de mi amiga Gaby por ver mi faceta cosplayera en pleno dia de brujas...y que mejor que una bruja tierna fuera del esquema del halloween!!!
Para realizar el vestido compré tela morada (lo mas oscura que pude conseguir) y mi madre me ayudo a hacerlo mientras que yo hacia a JIji (amigo felino inseparable de Kiki), para el morrar utilicé tela que tenía mi mama arrumbada y para la balerina de la cabeza ocupé tela que me sobró de la mascada de Kodachi (lo malo es que la tela era muy pesada y el efecto no era el mismo); para la escoba fuí a buscar ramas entre la yerba del campo pero no me gusto como quedó así que le pedí a Gaby su escoba para las fotos.
La experiencia en el Hallowen fue muy bonita (gracias por la invitación tocaya) y el trayecto super comico ya que mientras iba en el coche unos niños pedian dulces y al ver adentro del coche para pedir "calaverita" pues que se quedan en shock al ver a una muchacha disfrazada...igual y pensaban que tambien iba a pedir dulces!!!

Without doubts, the movies of the Studio Gibli is super tender and full with beautiful messages and human values.Por that chose to Kiki like first cosplay of its sagas. She shows many facets of my personality for what I found easy to identify me with her; another of the reasons was my friend's impetú Gaby to see my facet cosplayer in the middle of day of witches ...y that better than a tender witch outside of the outline of the halloween!!!
To carry out the dress I bought lived cloth (him but dark that could get) and my mother helps myself to make it while me toward to JIji (inseparable feline friend of Kiki), for the gamebag I used cloth that had my she suckles ignored and for the diadem of the head I occupied cloth that I had more than enough of the one chewed of Kodachi (the bad thing is that the cloth was very heavy and the effect was not the same one); for the broom fuí to look for branches among the herb of the field but I don't like like it was so I requested Gaby its broom for the pictures.
The experience in the Hallowen was very beautiful (thank you for the invitation namesake) and the itinerary super comedian since while I went in the car some children they requested candies and when seeing inside the car to request since " calaverita " that they stay in shock when seeing disguised girl it joins ...equal and they thought that I will also request candies!!!.